Start a new Creative
A Creative is a your design file that will become your Responsive or standard HTML5 ad.
To start a new Creative, click the New Creative button on the right side of the top bar on any page, select a New Project on Dashboard page, or the New Creative on Creatives page.
Top bar

Studio Dashboard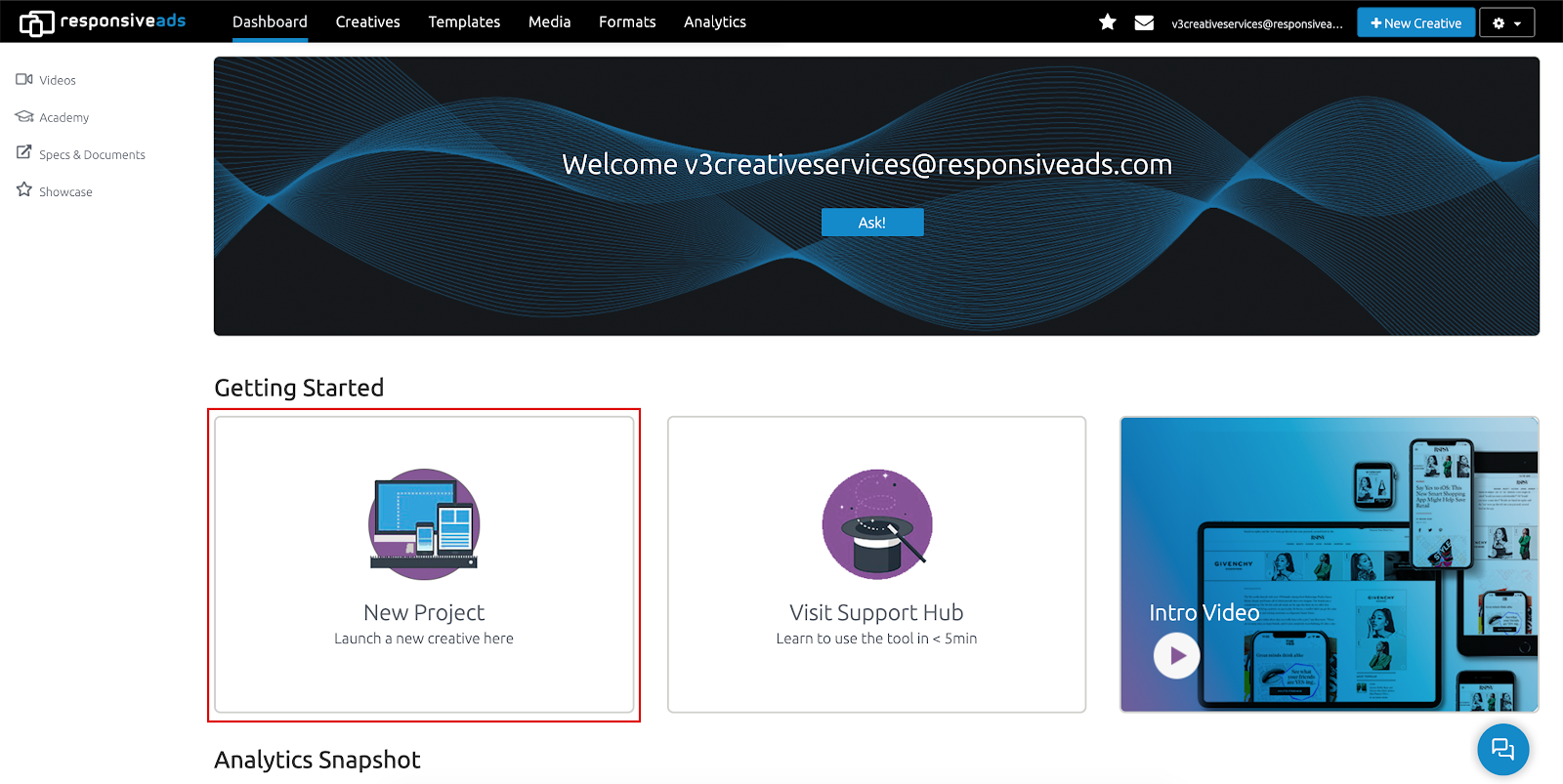 The Creatives page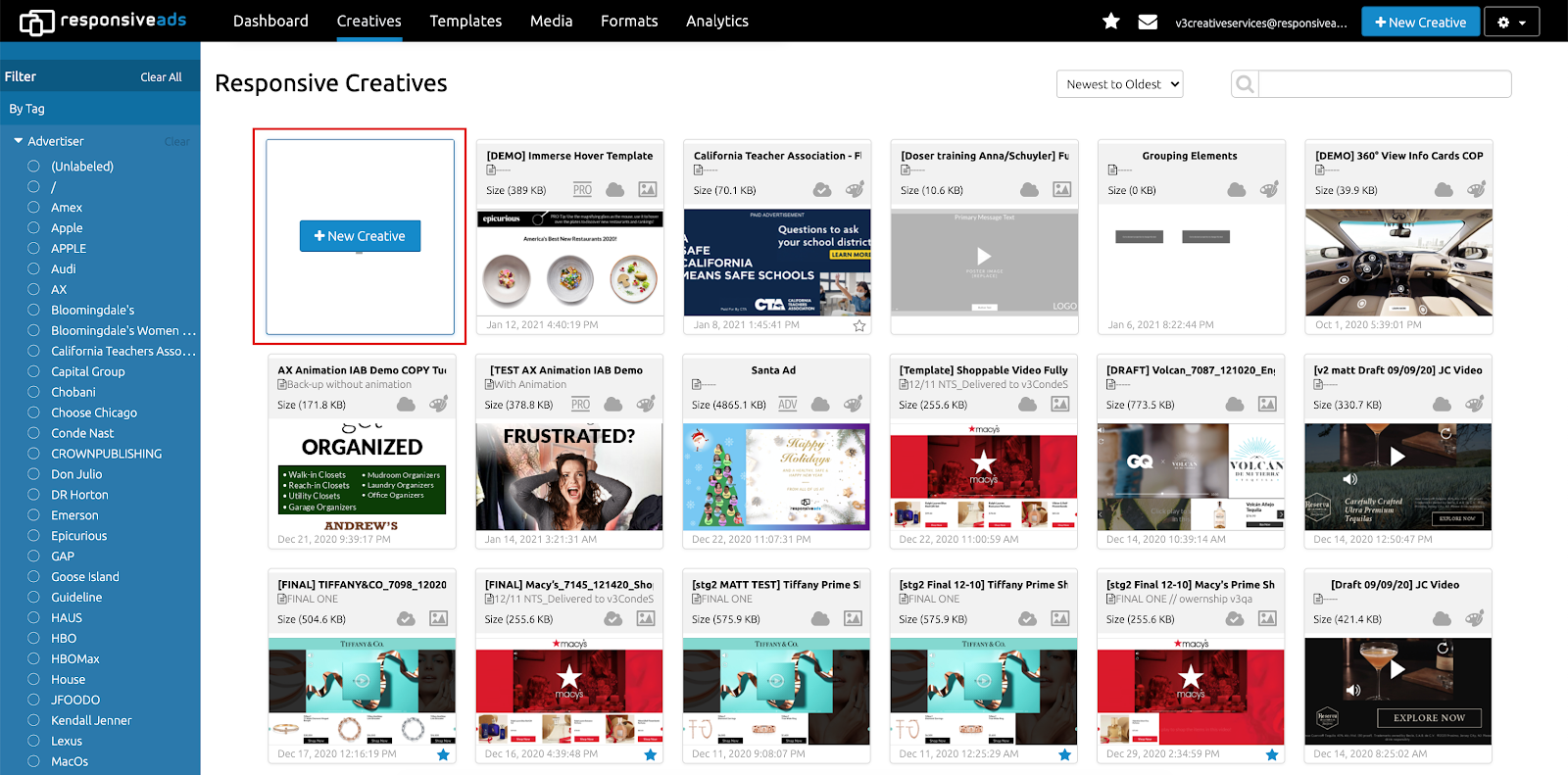 Clicking on any of those buttons launches the creative set-up wizard and ultimately opens the Fluid Designer.
Creative Set-up Wizard
1. Name Creative
Once you start a new Creative, you need to name it. Choose a name that includes the key features of this ad unit, so you and collaborators will be able to find it again easily later.
Best Practice: our ad production partners include status, date, client name, and template name in the name of the creative. "Status" is either Final, Test or Draft. Example name looks like this: [Draft 01/13/21] NBC - Lightbox 6 Articles.

2. Choose Method
Once you start a new Creative, you'll have an option to choose to start from a blank canvas, a template, or a PSD file.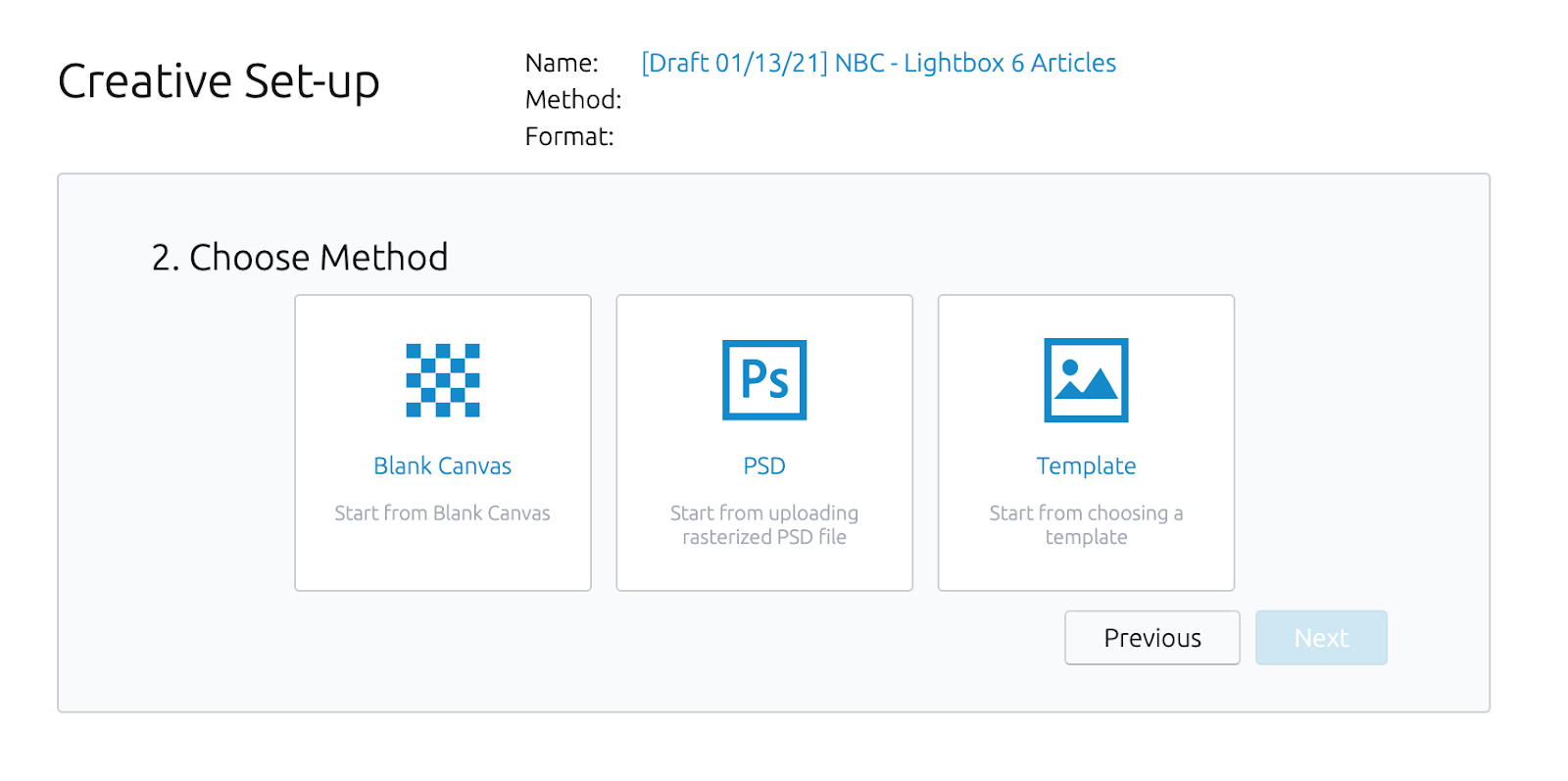 Blank Canvas
Choosing the blank canvas lets you start completely from scratch, with no preset elements. After selecting the blank option, you get to choose from an array of formats, including all Fluid™ formats.
PSD
Choosing PSD lets you upload your photoshop file directly. After proper formatting (coming soon), your layers in photoshop will be converted into element layers within the Fluid Designer.
Template
Choosing the template option takes you to an array of preloaded ad templates, to jumpstart your design process. Templates include preselected formats and preloaded elements.
You can also create your own templates, by "templatizing" layouts you created in the Fluid Designer so you can use them again later.
3. Add Formats /// Add Template
Add Formats
If your method is either Blank Canvas or PSD, the next step is Add Formats. You will choose which formats you want associated with your ad unit. Formats define the set of sizes and behavior of an ad unit as a whole. You can see a Demo of each format before choosing to add it to your Creative.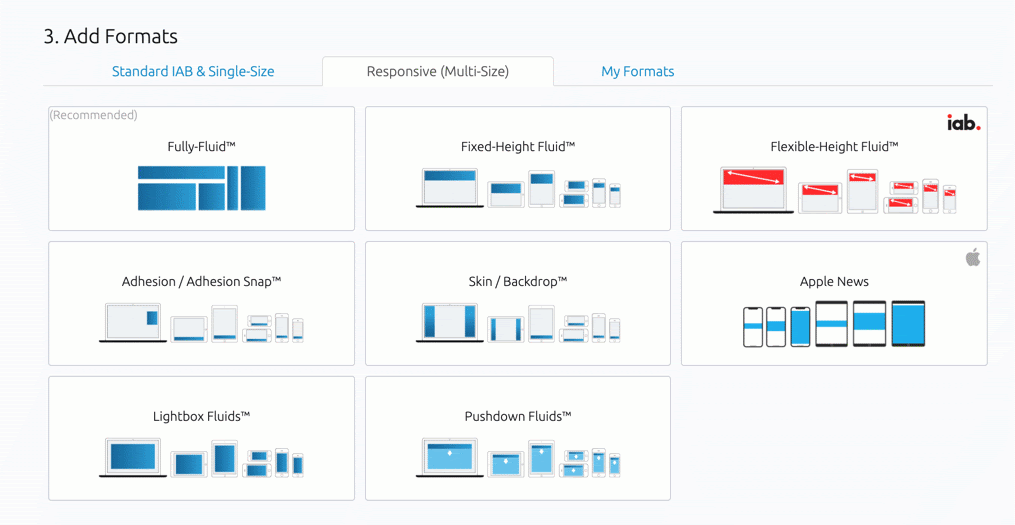 You can choose among Standard IAB & Single-Size formats, Responsive (Multi-size) formats (selected on default), or choose one of your custom formats under "My Formats". For more detailed information on formats, see:
RAD formats (coming soon)
Create New Format (coming soon)
Once you've chosen all formats you want to add to your Creative, scroll down to the bottom of the page and click "Next."

Add Template
If your method is Template, the next step is to Add Template. You will choose which template you want to work with for your ad unit. In this case, formats are already selected and assigned to templates, but you will be able to add other formats inside Fluid Designer later if needed.
You can choose from an array of ResponsiveAds native templates, or from the list of your own "My Templates". Once a template is chosen, click "Next".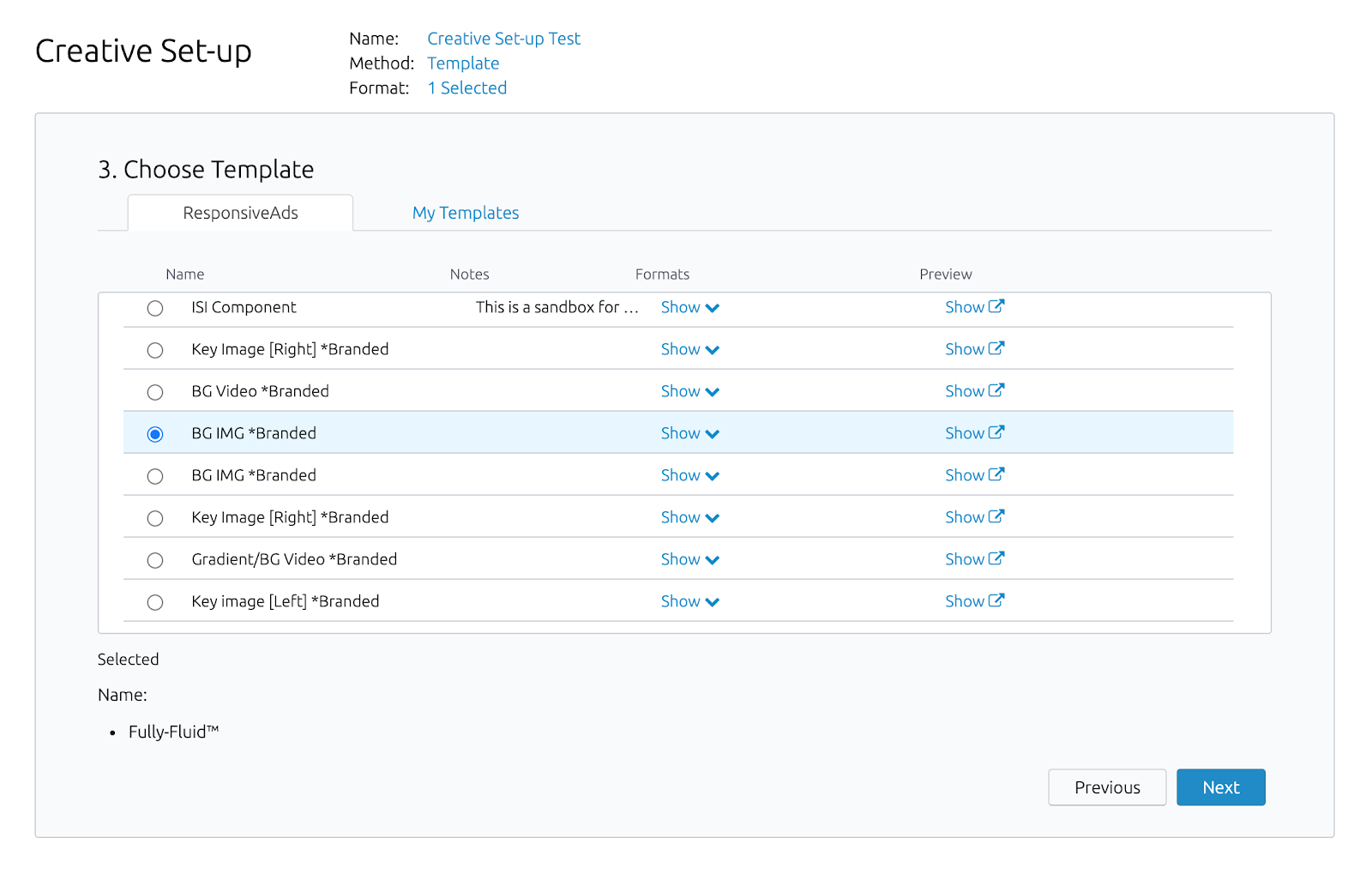 For more detailed information on templates, see:
Templates Overview (coming soon)
Templatize Creative (coming soon)
4. Add Details
Once you've selected your method and formats or template, add the relevant details to your Creative. Adding details of your ad unit can help you find it again easily by using the Filter Bar in the Creatives Tab. This tool lets you sort through all Creatives.
Learn more:
Summary Page - Tagging (coming soon)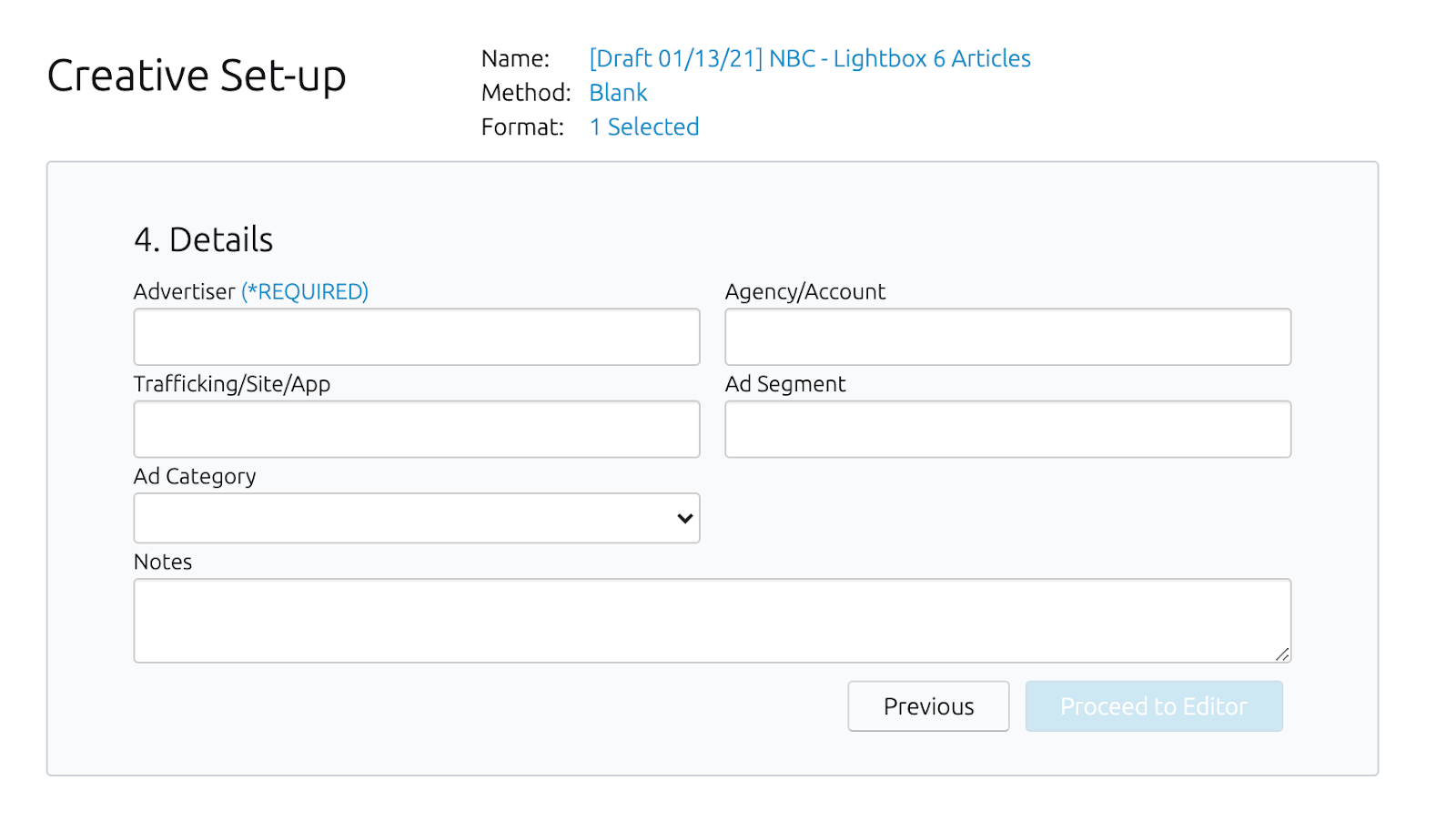 Advertiser
The "Advertiser" is the brand you are creating an ad for. The only mandatory detail.
Agency / Account
Note any agency or account the ad is affiliated with.
Trafficking/Site/App
You can organize your ads by where they are placed. Enter a site, app or placement the ad will run on.
Ad Segment
You can tag your creative by segment. For instance, you can note the targeted Demographic, Location, Time, etc.
Ad Category
You can also select an Ad Category, such as "Style", "Business" "Beauty" etc. which will help you catalog your Creative.
Notes
This convenient function lets you leave notes for yourself or your team. Those notes are visible on the Creatives page when you hover over a creative, and on a Summary page.
Proceed to Editor
Once you've completed the Details step, click "Proceed to Editor." This will open a new Creative within the Fluid Designer. For more information, see: Fluid Designer Overview