Introduction
ResponsiveAds™ Studio is a feature-rich fluid design platform. It's fast and easy to produce high-impact ads that can be deployed in any size (for instance, our infinite sized Fully-Fluid™ format).
With Fully-Fluid™, anyone can create cohesive ads in a nearly infinite range of layouts, all derived from a single creative design.
The ResponsiveAds™ Studio incorporates three programs:
Fluid Designer
HTML5 Export and Ad Serving Suite
Analytics
This overview explores the key functions of these three programs and details strategies to create engaging ad units, proof those ads, export your creative package or publish into a cloud-hosted server, and analyze campaigns using precise metrics.
For a shorter, quick-start guide to these programs, see: Getting Started - A Quick-Start Guide.
ResponsiveAds™ Studio Navigation
There are six ResponsiveAds™ Studio navigation tabs in the dashboard:
Dashboard
Creatives
Templates
Media
Formats
Analytics
The Dashboard is the first thing you see after you are logged in.
The Creatives, Templates, Media, and Formats tabs are all useful when designing a Creative ad unit.
Dashboard
The dashboard of the ResponsiveAds Studio looks like this: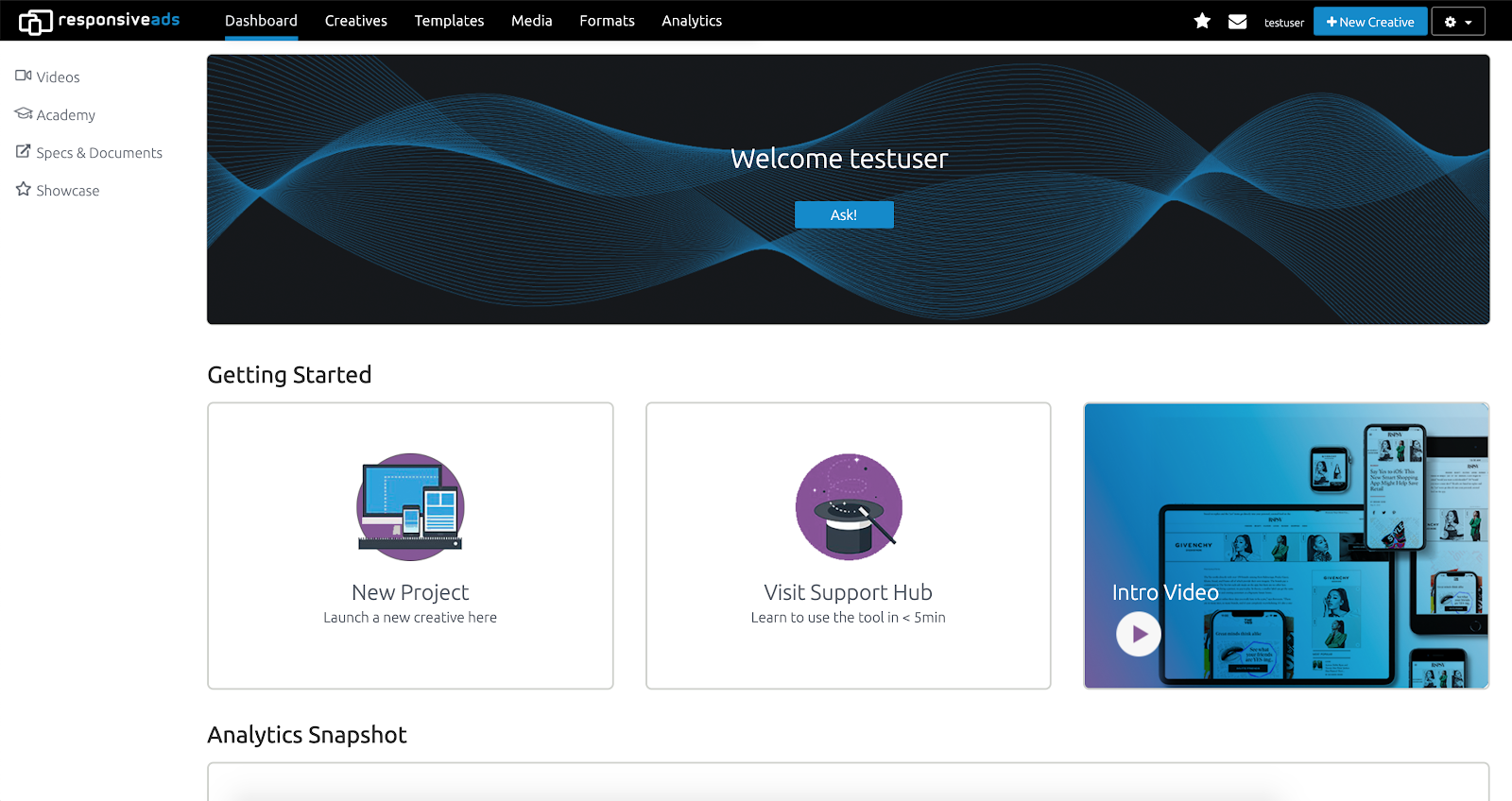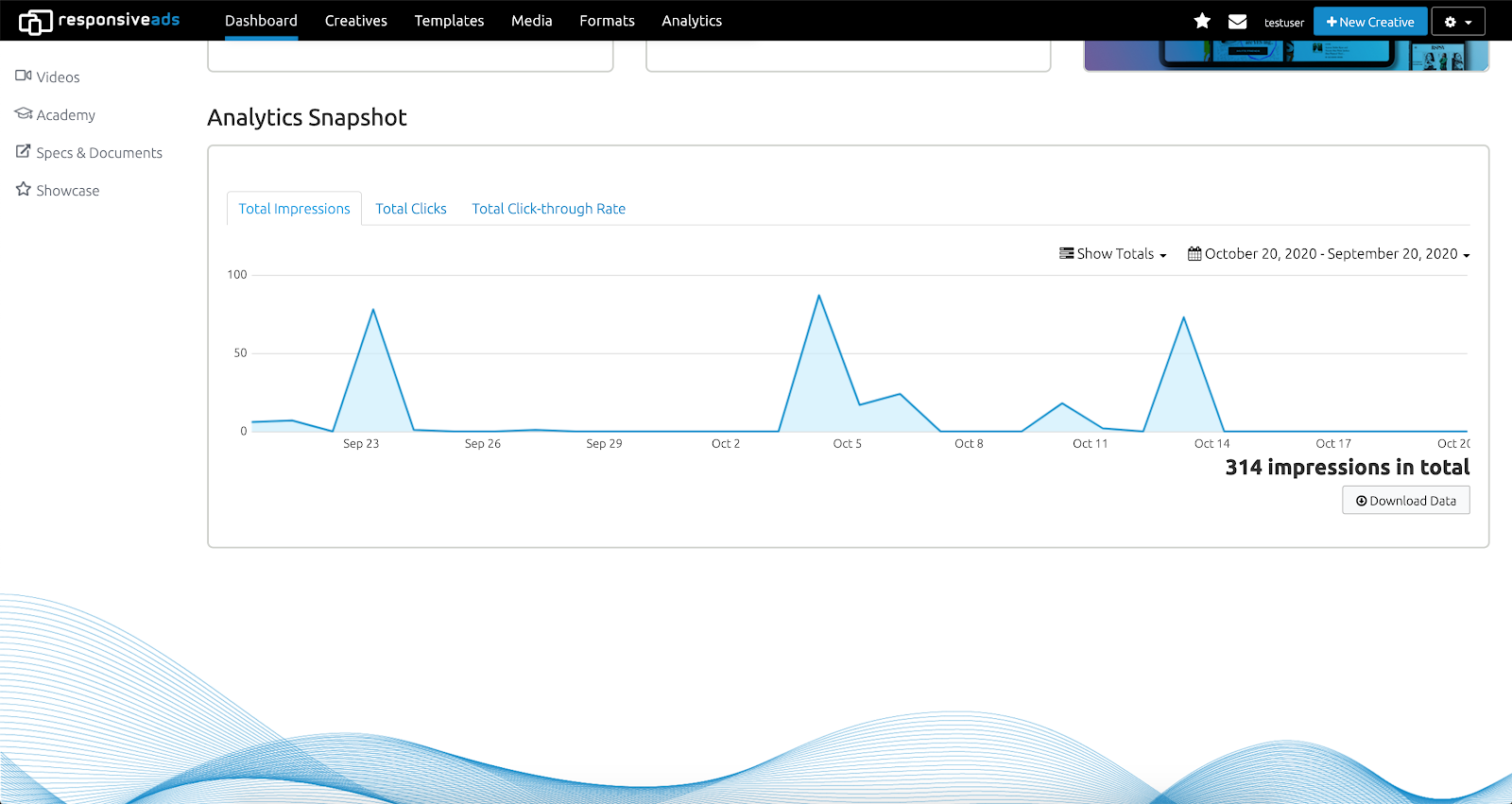 The most important things to note are the ResponsiveAds' Academy YouTube Playlists on the left-hand side of the screen, and the six Creative Studio tabs at the top of the screen.
In the upper right corner, there are four tools:
Go to showcase
Release notes
New Creative button
Account settings menu

Go to showcase

This star icon takes you to a showcase page you can create, which publicly displays the ads you've created.
Release notes

Clicking on the envelope icon brings up a new window.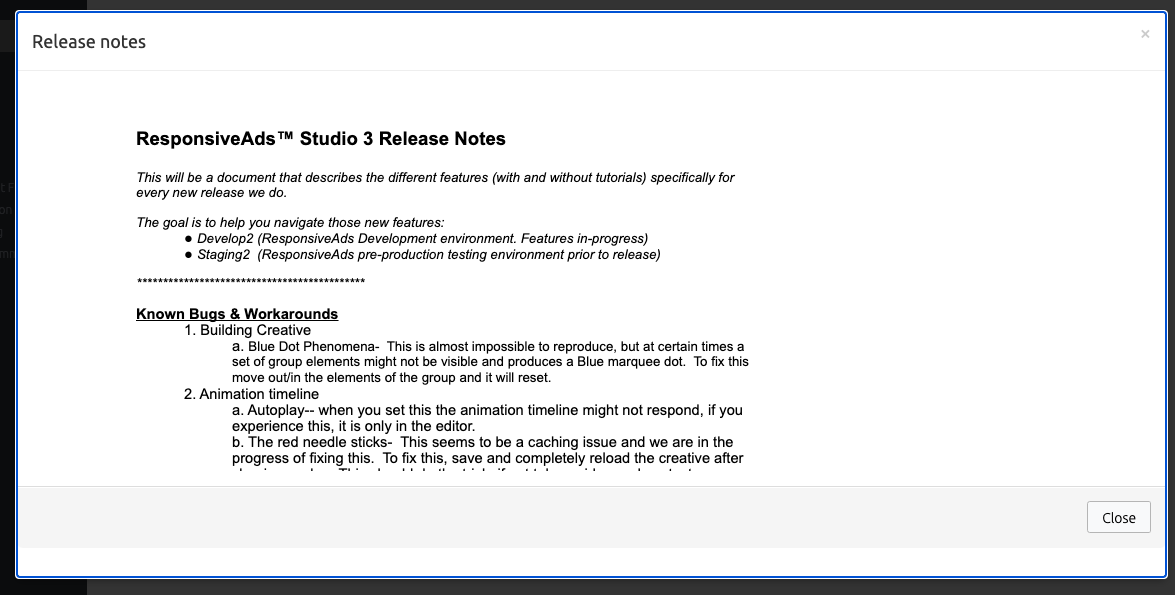 This window has updated information on the most recent release of the ResponsiveAds Creative studio.
New Creative button

Clicking this button opens a new Creative, and ultimately launches the Fluid Designer.
For more information, see Creative Set-up Wizard (coming soon).
Account settings
The gear icon opens the account settings menu.

From the account settings menu, you can:
View your profile
Access customer support & read articles on the support hub
Sign out of ResponsiveAds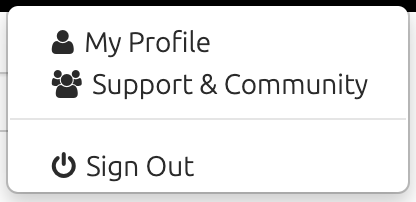 ResponsiveAds Academy Playlist
The ResponsiveAds Academy Playlist is a series of video demonstrations and tutorials that show how to use specific features of our programs.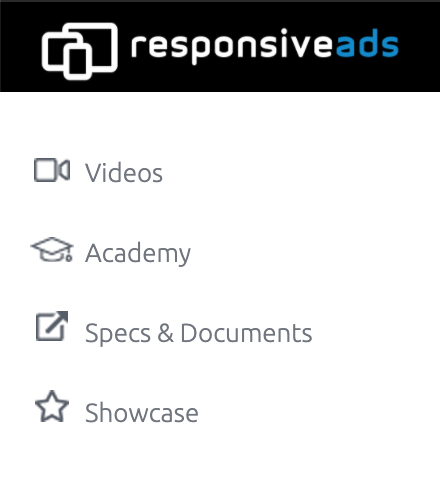 Creatives
The Creatives dashboard looks like this: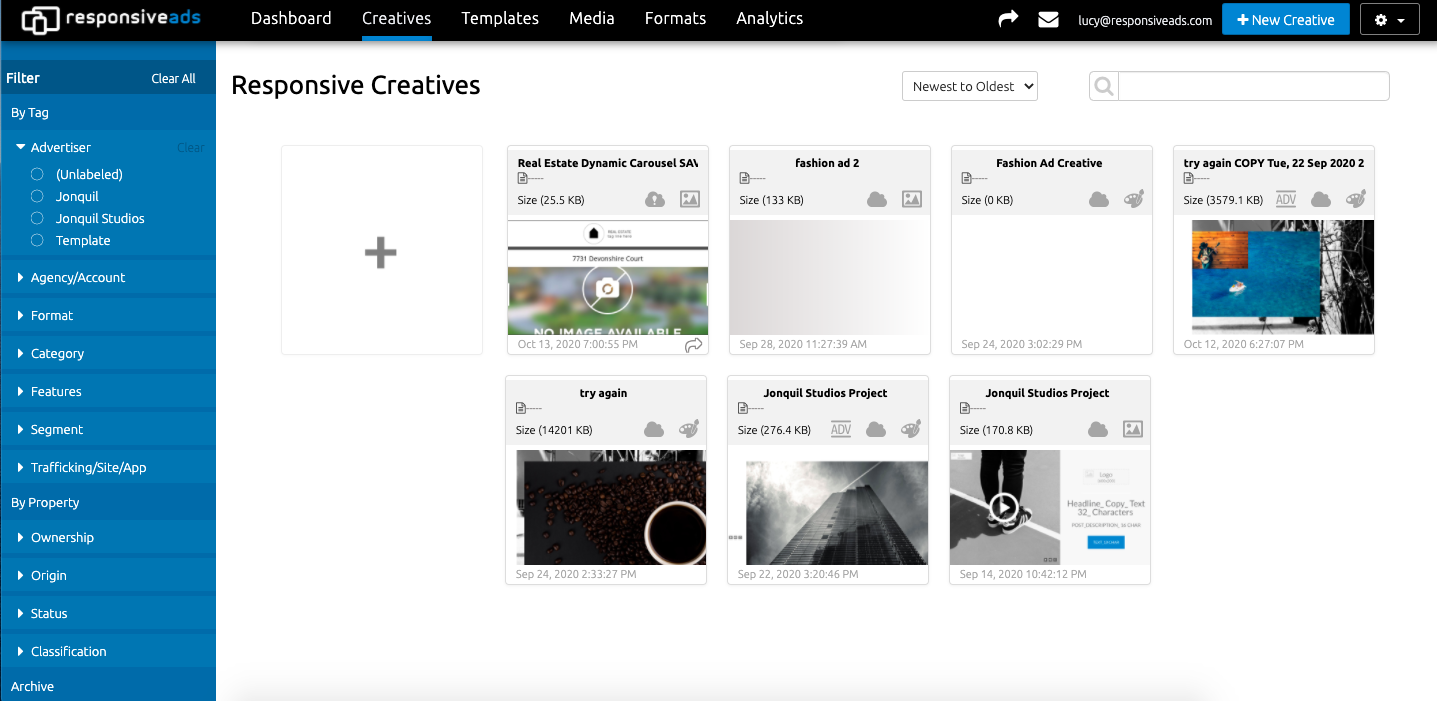 There are three aspects of the Creatives dashboard:
The Creative Management toolbar
New Creative
Edit Creative menu
For more in-depth information on the creatives dashboard, see Creatives Dashboard (coming soon).
Templates
The templates tab dashboard looks like this: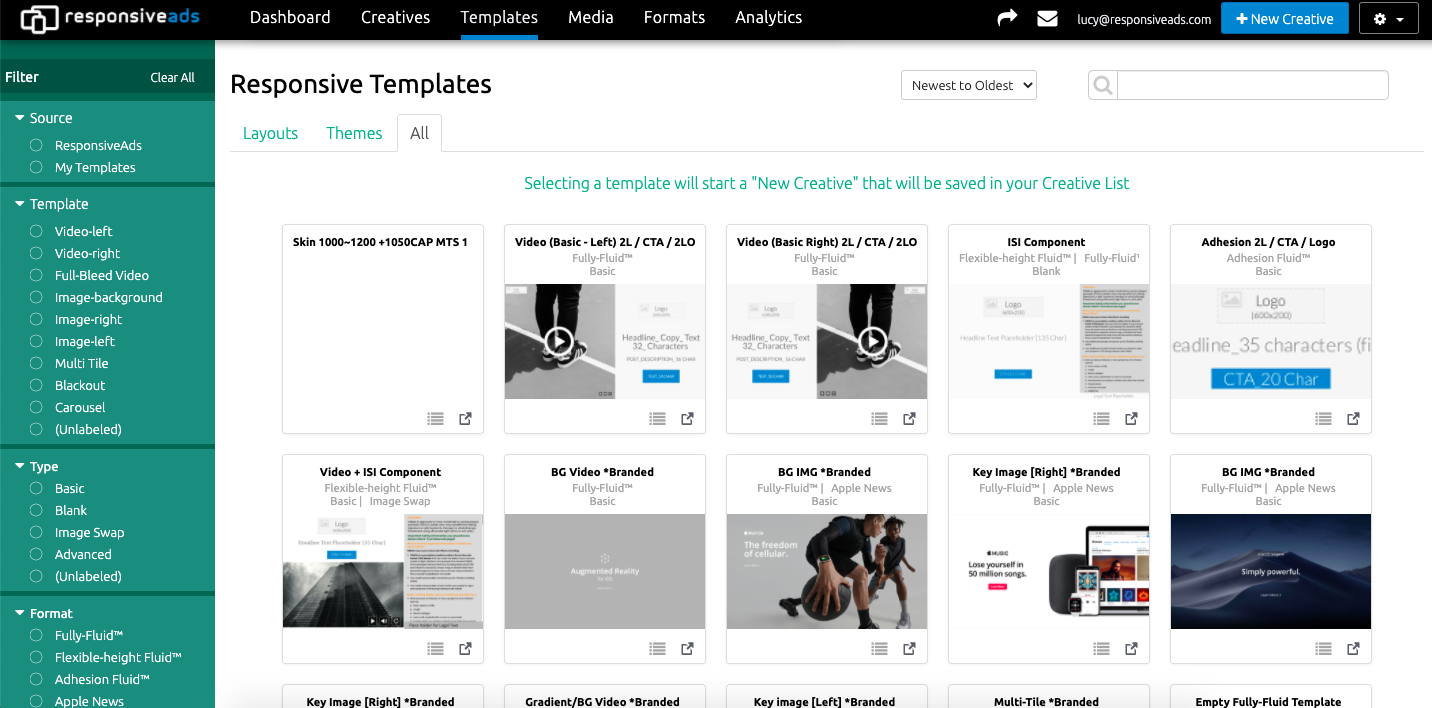 The templates tab houses all of the templates (i.e. layouts - unique arrangements of elements associated with specific formats) that you've saved, and also all templates that came pre-loaded into the Creative Studio.
For more in-depth information on the templates dashboard, see Templates Dashboard (coming soon).
For more on templates, see: Templates Overview (coming soon).
For more on creating layouts and saving those layouts as templates, see: Format & Layout - Overview.
Media
Media Assets become elements that can be used in a Creative when making an ad unit.
The Media dashboard looks like this: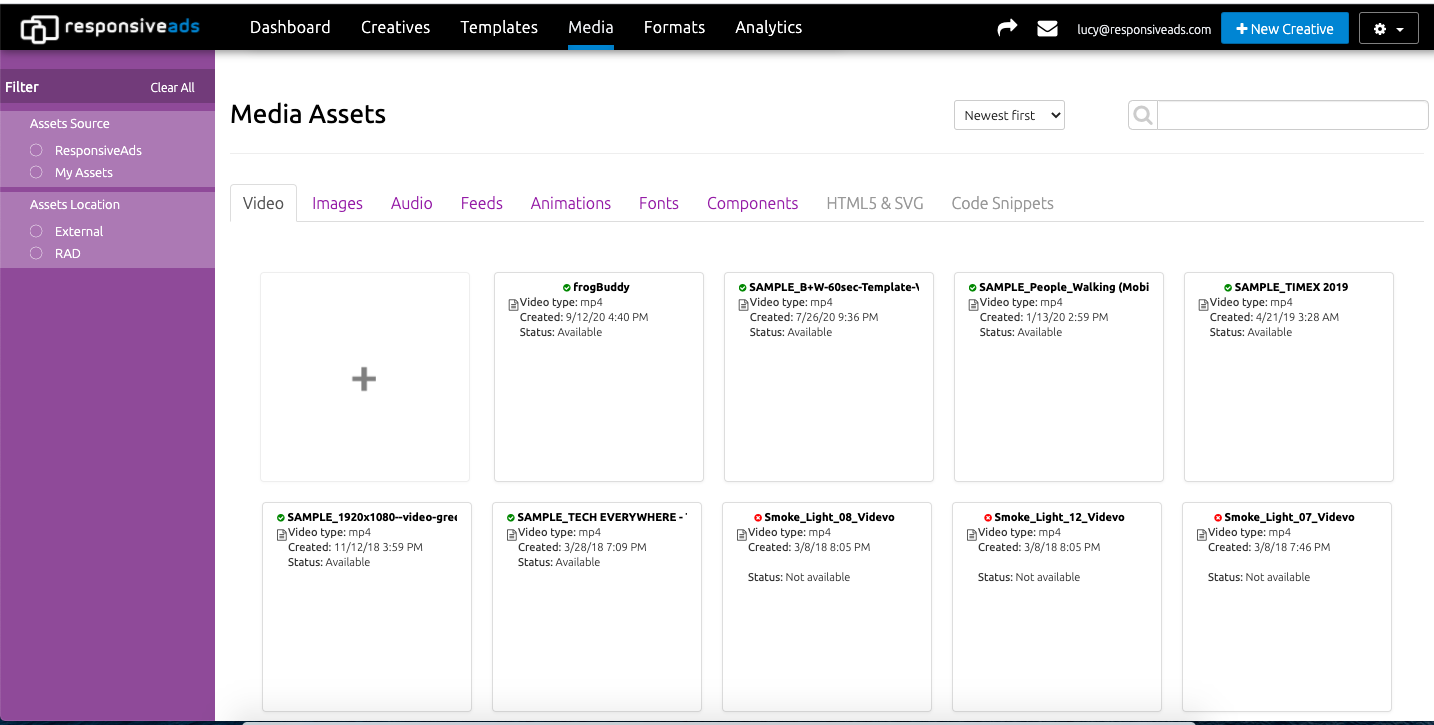 Within the Media Assets dashboard, there are nine tabs and a filter bar.
For more information, see Media Dashboard (coming soon).
Formats
The Formats dashboard looks like this: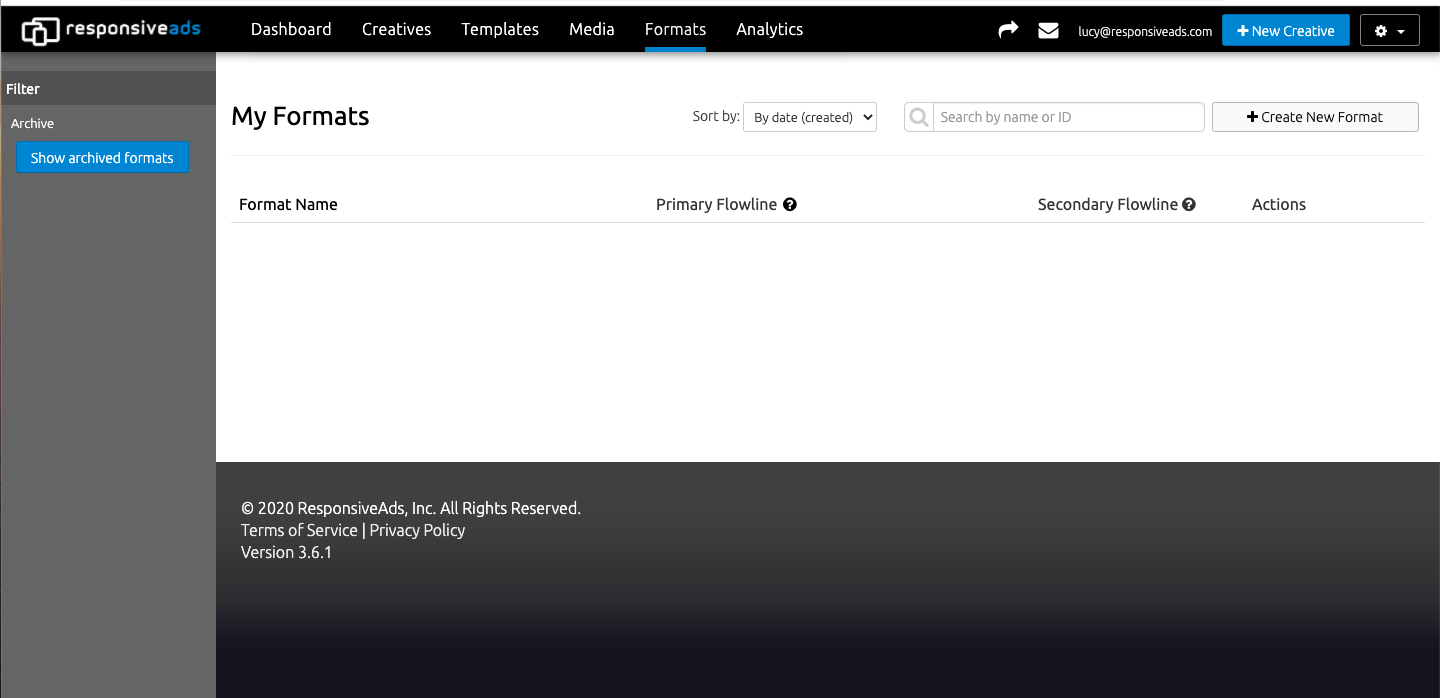 Here you can access, create and modify all your custom formats.
To create a new format, see Create New Format (coming soon).
Fluid Designer
The ResponsiveAds™ Studio Fluid Designer is the creatives builder, where you can create single and multi-sized ad units.
You can manage your Formats and Media Assets used inside the Fluid Designer, which looks like this: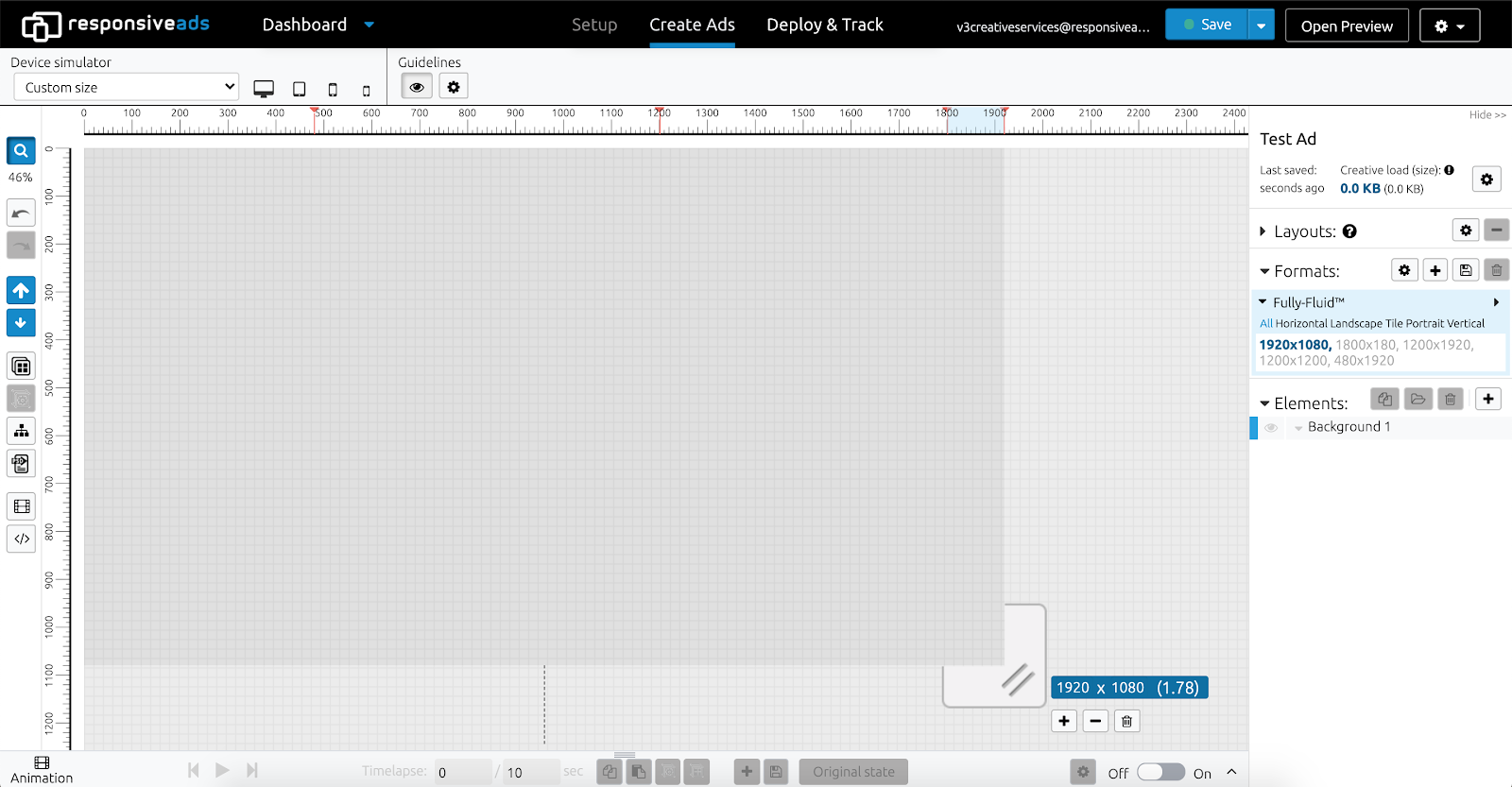 For more information, see Fluid Designer Overview.
HTML5 Export & Ad Serving Suite
ResponsiveAds Studio provides an opportunity of exporting HTML5 .zip packages for single-sized ads and Custom Responsive HTML5 .zip Packages.
So you can take control of hosting your creative on your own.
Learn more: HTML5 Export (coming soon).

ResponsiveAds Studio can also play the role of a third-party ad server.
You have an opportunity to create a deployment for your ad unit, which includes Clickthrough URLs and Impression trackers.
Then, you can publish it to a cloud-hosted server. In this case, ad-hosting has been taken care of for you.
Learn more: Deployments (coming soon).

Analytics Studio
The Analytics Tab takes you to your Analytics Management where you can see information about each of the creative campaigns.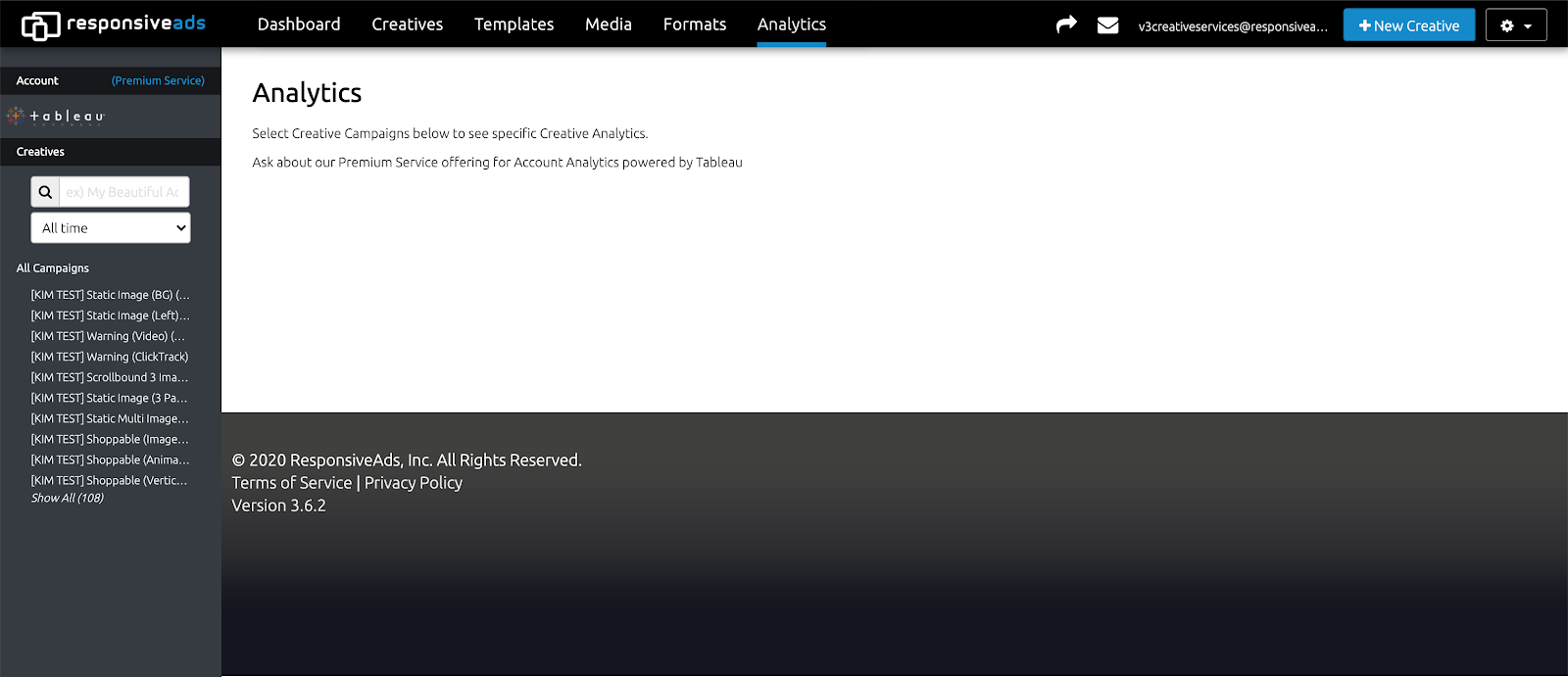 Premium Service offers Account Analytics powered by Metabase.
You can also access a snippet of Analytics related to a specific creative by checking its Summary page. And it looks like this:



The Analytics menu lets you view your Creative package by deployment date.
Learn more: Analytics Overview (coming soon).