To copy styles to all other sizes in all formats, go to the Creative Properties Bar, on the left-hand side of the canvas in the Fluid Designer.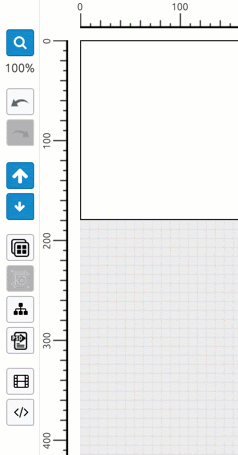 This function is useful when you have some, or all of your styles for elements setup in one size and want to copy them to all other sizes in the creative.
For example, if you want to apply a specific style of your text elements and a specific color palette or design style from a CTA button element to all sizes.
Copy styles allows you to copy all element's styles and apply it to all instances of those elements, in all layouts and sizes in the creative.
Style Properties
Style properties include selected Basic and Extra Element Settings. These properties can be copied from one size and applied to all other sizes in your creative.
Style properties include the following element settings:
For Text Box and Button (HTML) only
For all visual elements

Background color
Border styles
Shadow styles
To copy these style properties from one element, to elements in all other sizes, in all formats of your creative, just click on the icon "Copy all styles to other sizes" on the left-hand side bar.
The styles will be applied immediately to the elements throughout the creative, in all size variants.
To learn more about Element Settings check Element settings.