Let's see how you can manage Formats, Layouts and Sizes inside your creative. Detailed explanation of what Formats, Layouts and Sizes in ResponsiveAds are - see in this article.
In short, Formats are your actual ad units you will eventually deploy (export zip or get an ad tag). They can include only one size, or have multiple sizes. Multiple sizes Formats also have a behaviour (resizing rules) associated with them: responsive unit with a fixed height, responsive unit resizing proportionally or a unit that loads as a backdrop on both sides of the website's main content. Single size Formats are static, not responsive and don't have any behaviour associated.
Layouts stand for positioning of elements on a specific size, how elements are laid out (+ other elements settings). First you have an empty Format with empty sizes (no elements, no positions), then you attach layouts to sizes.
Size is the width x height of the unit that will render the creative. Sizes are grouped under the Formats panel.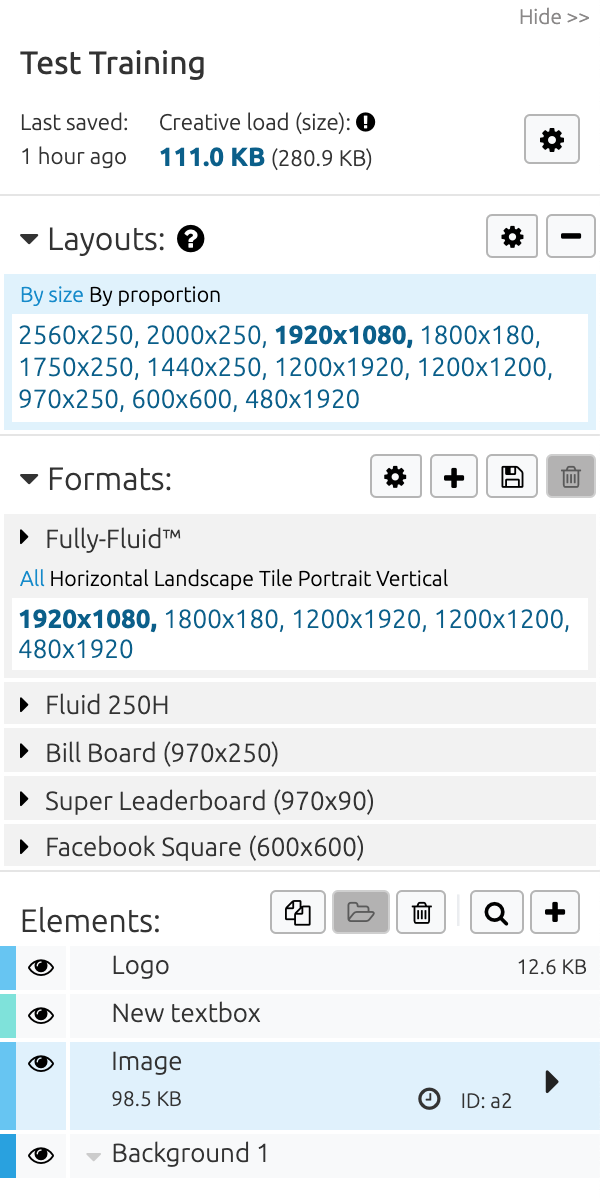 Add or Delete Formats
Most important functions for you to use: Add or Delete Formats in your Creative.
To add a Format, click the "+" icon on the Formats panel. In the pop-up window, select from the array of ResponsiveAds or your custom preset Formats. Confirm by clicking on "Add selected" and see your new Format in the list.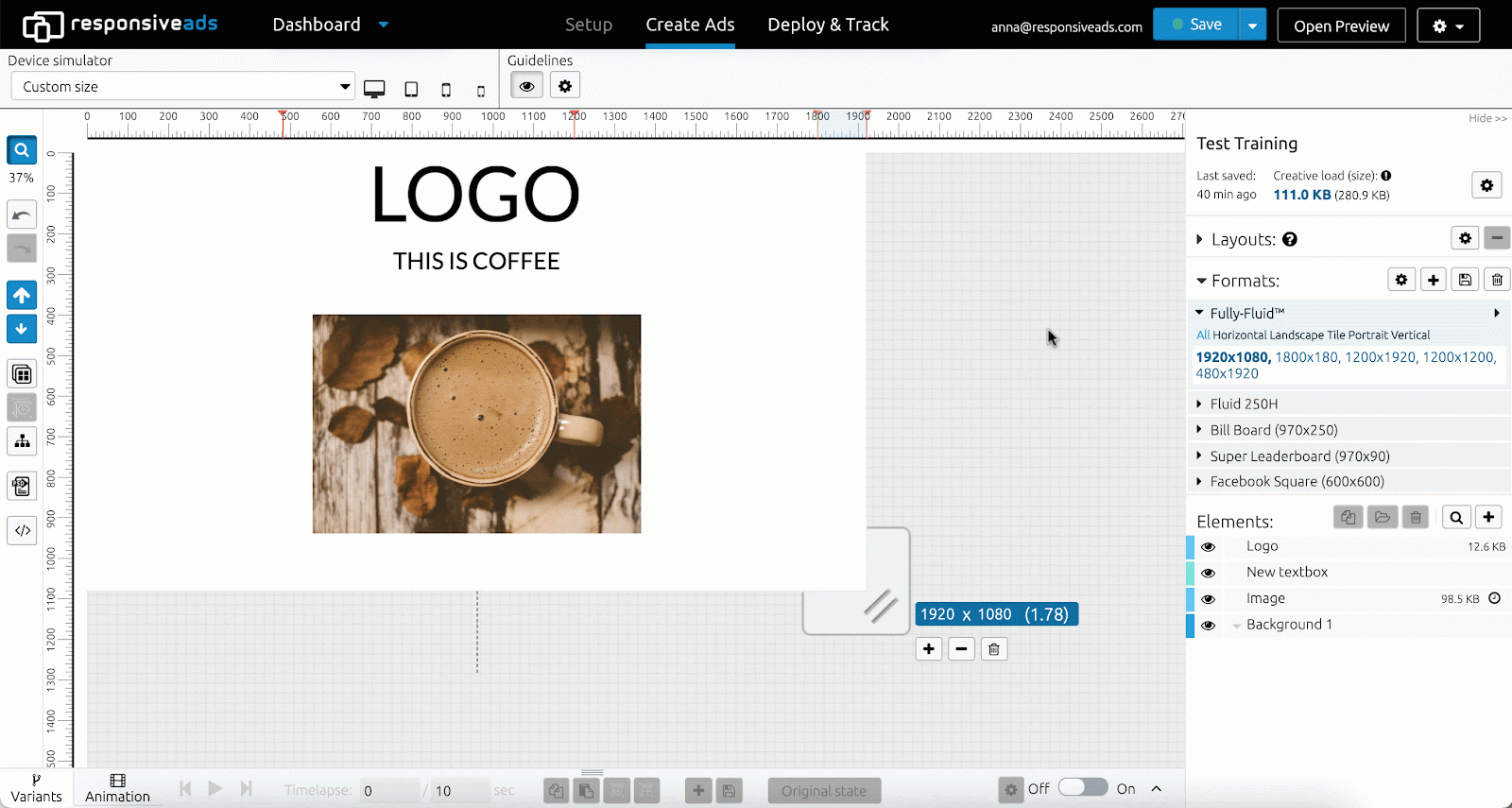 To delete a Format, make sure you have a correct Format selected, then click on the trash can icon on the Formats panel. Confirm by checking "I have reviewed the deployments" and click Delete.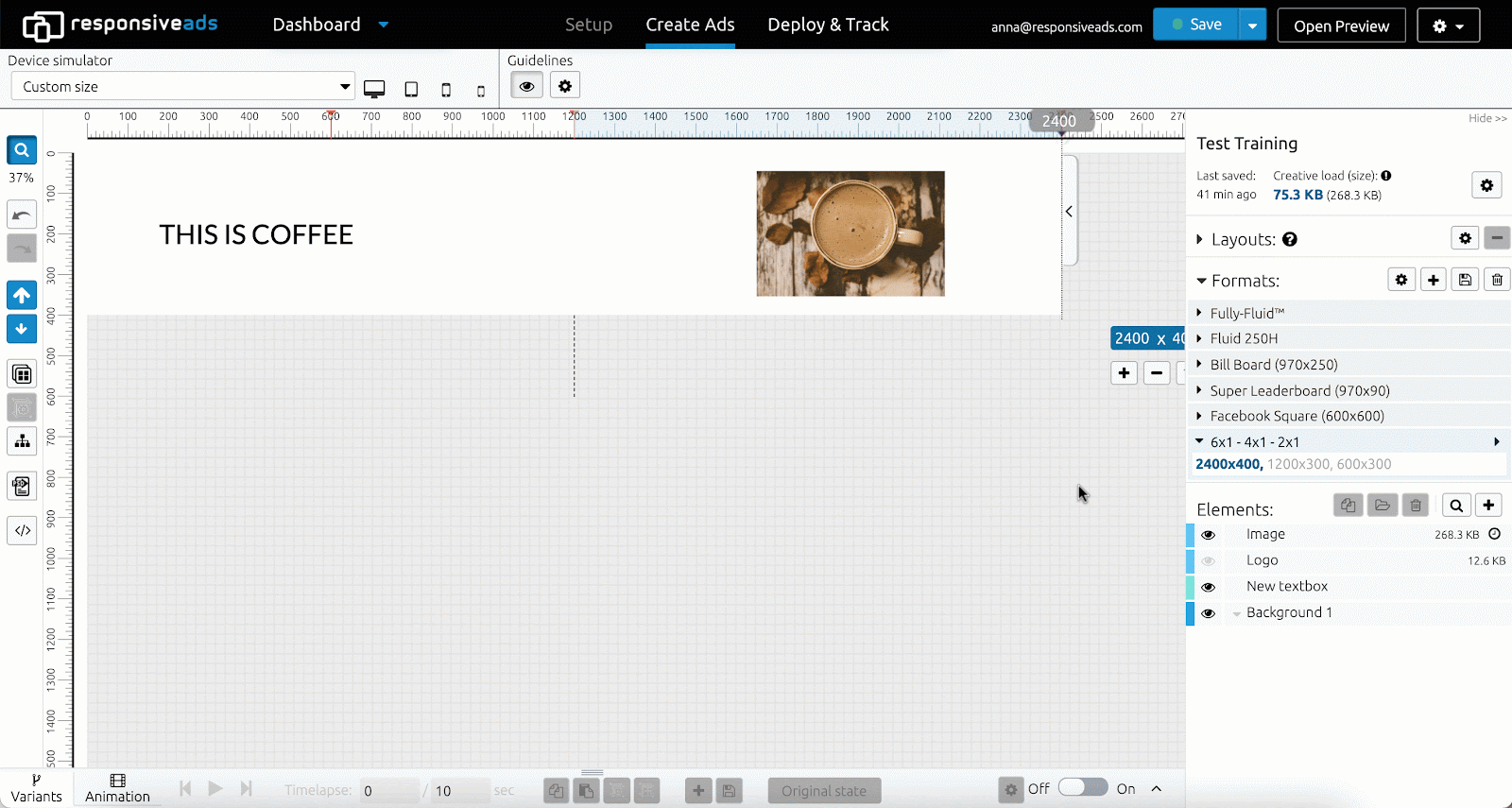 Remove Layout from Size
If you are not satisfied with how you laid out elements in a particular size and want to get a default (automatic) layout, you can remove a layout from a size. Make sure a correct size is selected on the Formats panel, find a Remove Layout button next to the slider on a canva and click it. This action will grey out the size you selected on the Format panel, which means it becomes empty - no layout attached. Click on the size to get a default layout for that size instead.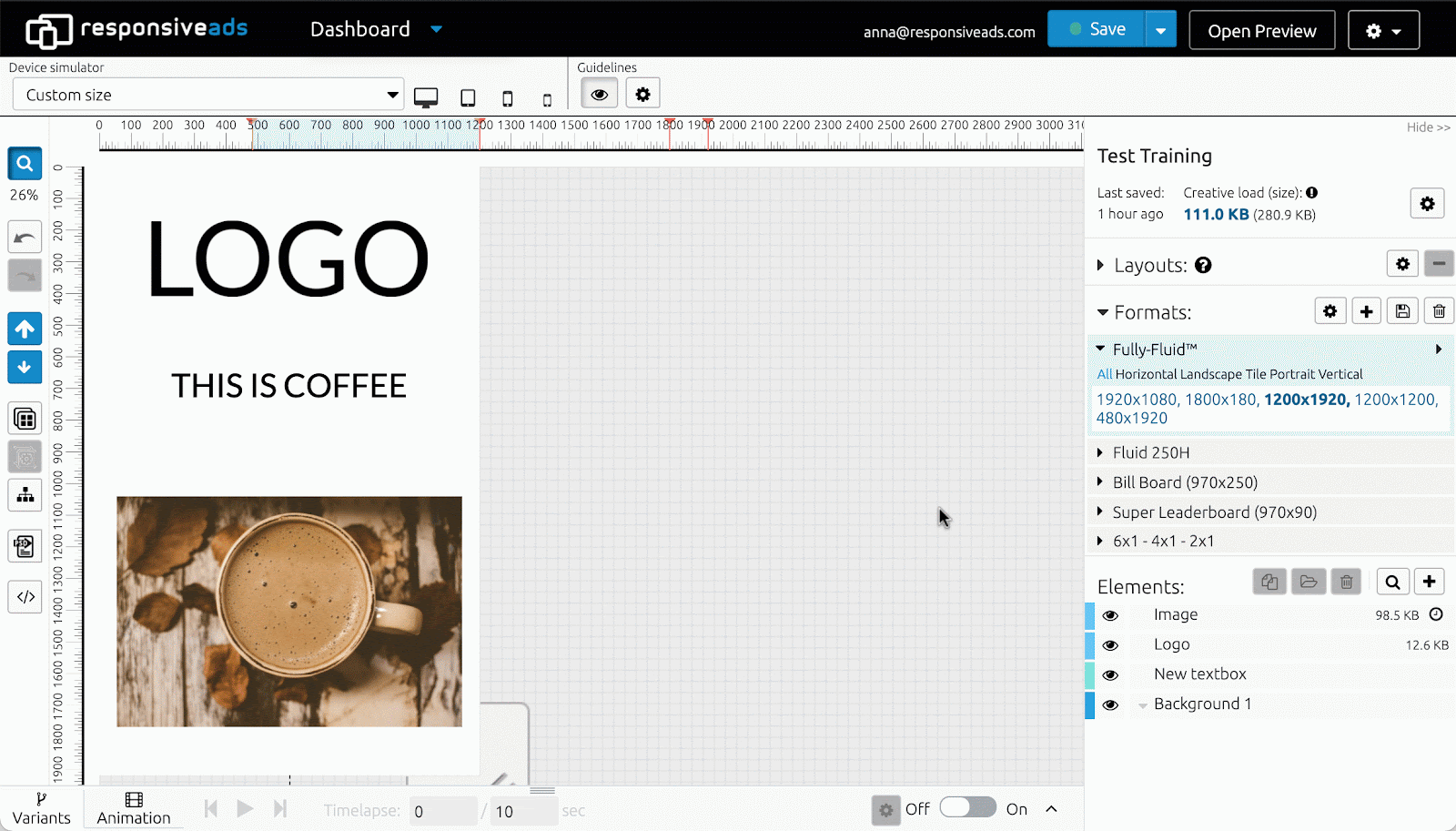 If you want to overwrite an existing layout with another one, you can use a Copy Layout function.
Add or Delete Sizes
When designing an ad for a Multi-Size Format, you might want to add an additional size that is not originally included in the Format, or delete sizes that you don't need. Adding a size is similar to adding a breakpoint in responsive web design. Situations will vary depending on the format you are dealing with.
Using canvas
To add a size, use a slider to test your creative and see what size you want to make changes for and have a separate layout. Find the exact size with a slider, or type the size manually. Click on the "+" button next to the slider. This action will add additional size to your Format and save the default layout attached to that size. Now you can make changes to the layout without affecting other sizes.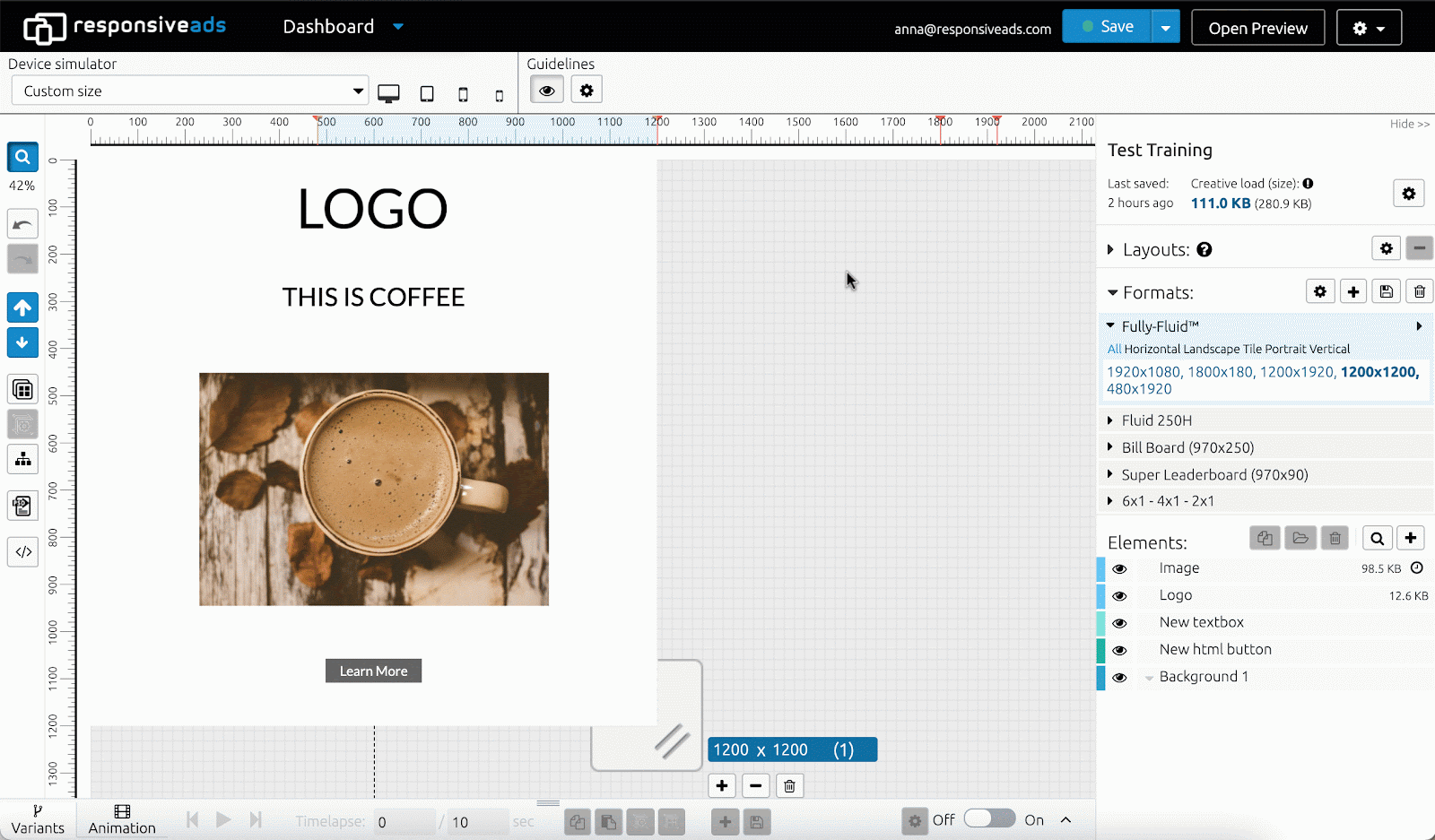 To delete a size you don't need in your format, make sure the correct size is selected and simply click on the trash can icon next to a slider. This will delete a size from your format, but the layout that was attached to the size will be saved in the Layouts list.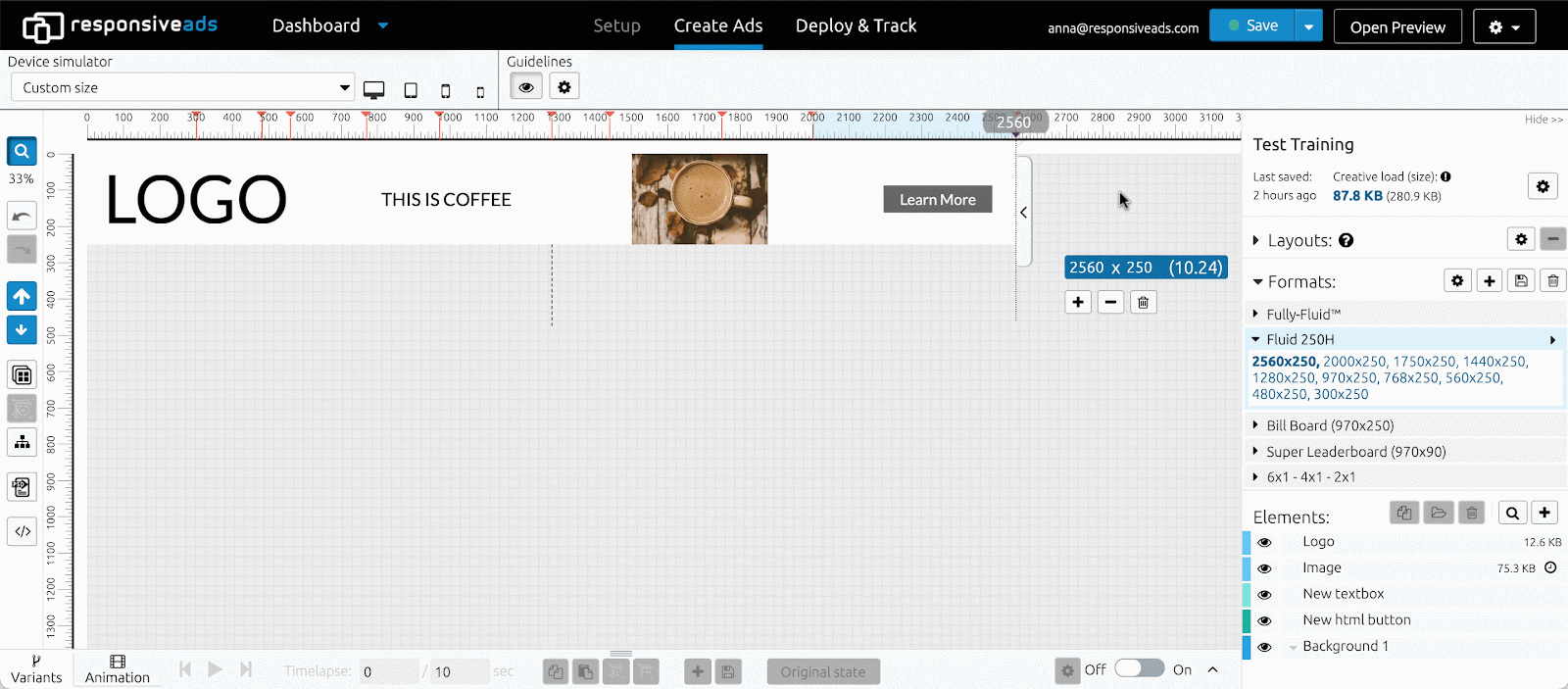 Using Format settings
Alternatively, you can add or delete sizes when accessing Format Settings. Note: This option is for more advanced users.
Select a correct Format, click on the arrow and see the pop-up window. You can add sizes from 1) those that are already used in your creative, 2) from preset proportional or fixed sizes lists, 3) or type your custom size that you wish to add. When you are done adding or deleting sizes, click "Save Format" and see the changes being applied.